Yes. We can literally print and mail postcards to online customers who have viewed your products online, but didn't purchase. Seriously.
Get a second chance by Re-engaging lost opportunities
Don't look so sad, those potential customers aren't gone forever! For all that traffic that didn't turn into sales, we can send them postcards to bring them back and complete their purchase.
Whether you want to bring visitors back to the site, coax them into your brick and mortar store, or just stay top of mind, we'll help remind them your value and help convert browsers into customers.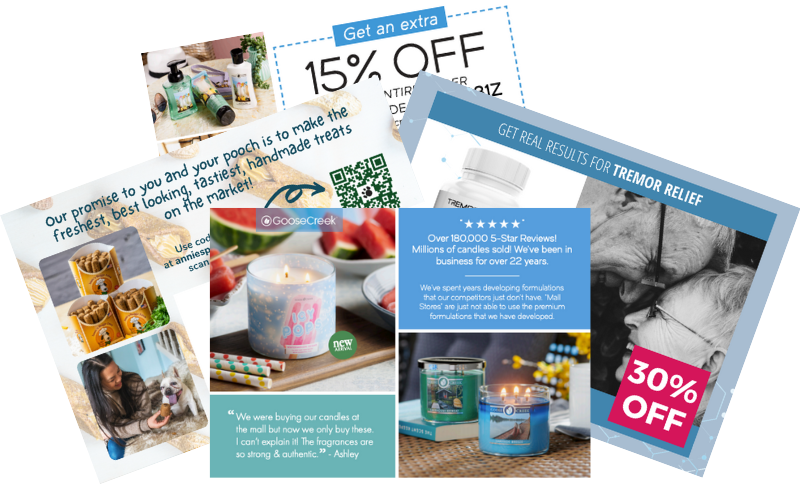 of your unconverted website visitors may be matched to mailable addresses
higher engagement with direct mail versus with digital marketing alone
more visitors returning to your website than with digital marketing
ROAS on product pages, 11x on abandon cart campaigns, and more
""We knew we were losing money not getting in front of non-buyers. 1stFaction was able to segment our traffic and show us exactly how much we could gain from using postcard retargeting."

Ross @ Rainmakers
""Our email open rate was 15% and our Social Media posts were only being seen by 1% of our audience. With Postcard Retargeting from 1stFaction, we were able to add another touchpoint to our customer journey and solidify our brand.

Brian @ Muley Mayhem
How Direct Mail
Retargeting Works
We'll work closely with you in our simple, step-by-step Direct Mail Retargeting program to help you turn more website visitors into customers and clients.
Step 1: Set Up Tracking
We'll help you add specialized tracking to your website that analyzes current traffic. This tracking works in the background to match your visitors up with physical, mailable addresses.
Step 2: Send Postcards
After our tracking system has collected enough addresses, we'll send postcards directly to your customers in the mail. The number of postcards we send will be based on the amount of traffic your website gets, as well as your budget. The postcards can be designed by you, or by our expert team for a small fee.
Step 3: Track Results & Optimize
It's easy to see returning visitors and the actions they're taking from our dashboard. We can then measure mail tracking and conversion results to make informed decisions for even better performance.
So How Much Does This Cost?
Clear, simple pricing. No minimums, just simple tiered discounts as you grow!
1-1000 Postcard Per Day
$1.40
Per card
1000-2000 Postcards Per Day
$1.35
Per card
2000-5000 Postcards Per Day
$1.25
Per card
5000-7000 Postcards Per Day
$1.10
Per card
We can also help with the design for a small $300 design/setup fee. Already have that part taken care of? Great! Let's get things moving ASAP. We'd suggest you put those savings into getting more customers back to your site!
***We are now offering a Jumbo 6″x9″ Postcard! Pricing is $0.30 more per card from the pricing breakdown noted above. Talk to us for details & print specs.
Frequently Asked Questions
Ready to Get Started?
Start bringing unconverted visitors back to your site today!