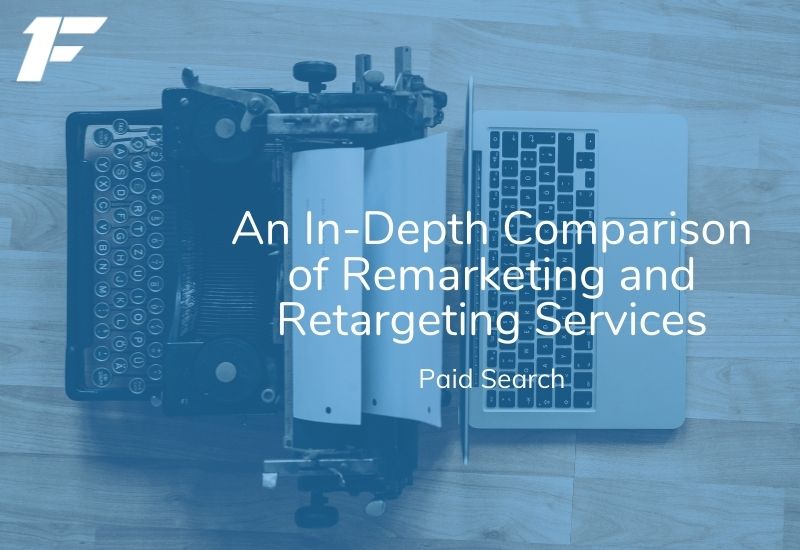 Credit: Neil Patel
A customer steps into your shop, inquires about a particular product, and then leaves without buying. You know there's a potential sale, and there's every chance that person will be buying a similar product sooner rather than later.
How would you like to send some of your sales people to follow that visitor, reminding them of your business wherever they go? In fact, reminding them to the extent that your business/brand is the first and only name that comes to mind when they are about to make a purchase?
Sounds like an insane idea in the real world. Even if your sales staff doesn't get beaten up for stalking, the cost alone would make it impossible to pull off.
But that's exactly what remarketing (a/k/a retargeting) services enable you to do in the online world.
Remarketing is great for many reasons. For example:
Reduced cost per impression
Better conversion rates
Improved ROI
Precise targeting
Cost effective branding
It's no wonder remarketing has been taking the online world by storm.
But… It just seems so difficult, so hard to understand and set up.
Is it?
Reeeeallly?
Truth be told, setting up a killer remarketing campaign is surprisingly easy. As long as you understand the basics, there are great remarketing platforms out there ready to help you smash your ROI targets. These platforms take care of all of the technicals, like leaving a cookie to earmark visitors, monitoring their behavior, making guesses about their intent, or working with a "display network" or "Real Time Bidding exchange." Pretty cool, really, because they leave you more time to work on strategy and branding while they handle all of the technicalities.
Let's dive in and take a look at some of the main platforms you can use.
AdRoll
AdRoll has been providing various online advertising options to businesses for more than five years, but they are best known for their retargeting plans. And while it's not always a testimony to the efficacy of a service, with companies like Moz, Levi's, Red Vines, and Salesforce using the platform, you can think they must be doing something right.
AdRoll works with advertising partners like Facebook Exchange, Google, Yahoo, and Microsoft, allowing you to reach 98% of sites on the Internet.
Speaking of ROI, AdRoll retargeting customers earn $10 for every $1 spent on average. (At least that's what they claim on their website.)
The guys at AdRoll are really good at advance targeting techniques, like customer segmentation, geo targeting, and more. Using their platform, you can target or exclude site visitors based on their actions, create groups of users based on purchase intent (like adding a product to a shopping cart), and set up advanced conversion tracking rules. Check out the image below to see a quick snapshot of this in action:
Customer Segmentation – AdRoll
AdRoll makes retargeting quite simple with features like easy-to-read analytics.
AdRoll is an official Facebook partner and provides one of the best and easiest-to-use platforms for customer retargeting on Facebook, especially the news feed ads.
A Facebook Newsfeed ad powered by AdRoll. Yep – AdRoll can remarket to your potential customers who left your site and went to check Facebook.
Setting up a Facebook news feed campaign is quite simple. All you need to do is choose your weekly budget, schedule, targeted locations, and max CPM bid. Then select your visitor segments. Your ads will start appearing in their news feed. The ads will start showing to anyone who has been cookied on your website, regardless of whether they liked or interacted with your Facebook fan page. The ads will start showing in the person's news feed simply because they visited your website in the past and you have targeted them in your ad campaign. Pretty cool!
AdRoll has good transparent pricing and solid customer support, both in terms of responsiveness and level of expertise.
AdRoll in a nutshell: Easily the frontrunner when it comes to retargeting platforms. While it is a little on the pricey side, the service and ease of their platform make it worth your marketing dollars.
Chango
Chango specializes in search retargeting (though they are offering site retargeting solutions as well). Search retargeting doesn't require a potential customer to visit your website before your ads start appearing on their screens. Instead, customer interest and relevancy are decided by a recent search they performed on Google, Yahoo, or Bing.
So, if someone performs a search for a product/service on a search engine and lands on a website that is part of Chango's data network, Chango will earmark the user and let you advertise to that user with a customized ad promoting relevant products and services.
Chango has a massive network of data partners. You will get access to more than 8 billion search events and search data from Google, Bing, and Yahoo, which means you also can get some great keyword ideas or suggestions.
You will get a dedicated account manager, meaning you won't have to waste countless hours trying to set up, optimize, or manage your campaigns.
You can target customers from some of the best markets like US, UK, and Canada.
Chango has certain indicators and scores allowing you to assess each visitor according to what they do before, during, and after visiting your website. They call it "intentscore," so you can target the visitors who seem to have the "intent" of buying a particular product.
If you've got a product feed, Chango offers dynamic creative for online stores, allowing you to create ads with recently viewed products the customer browsed at your e-commerce store.
Chango points to take home: Chango prides itself on having a huge network of data partners. Using their search retargeting option to target potential customers with an intent to buy, will give you an upper hand over your competitors when it comes to SEM.
Chango isn't for the fainthearted, and their minimum price is 10k to set up a campaign. If you are just taking your first steps in the remarketing world, it might be wise to use one of the other platforms before you dive into the deep end with Chango.
Perfect Audience
The guys at Perfect Audience provide a retargeting platform for those who'd like to keep it as simple as possible. All you need to do is insert a script/code in the body section of your website, create lists of visitors' types to retarget, design campaigns to target certain segments in your retargeting lists, and your ads will start appearing on visitors' screens, so it's as simple as ABC (and D).
You get to remarket your products or services to lost customers on Facebook, a platform with a user base of more than 950 million people. When a visitor leaves your website or a certain page without ordering, you will be able to retarget that visitor on Facebook. Similar to AdRoll, Perfect Audience offers both standard Facebook ads and the ability to retarget in the Facebook news feed. Check out this ad they actually ran themselves when they started their beta testing:
A Perfect Audience Facebook Newsfeed ad
For online stores using platforms like Shopify, 3dcart, Magento, and Volusion, Perfect Audience offers practical solutions to retarget visitors who are leaving without buying anything.
You don't need to pay a setup or maintenance fee, which makes it an ideal choice for small businesses with tight budgets.
Their "site reports" actually show you the names of websites which your ads have been served on, how many impressions were served, and how many clicks were attained. Using this data, you can easily see where your ads are performing the best and where your target users are spending most of their online time. Further to this, if you notice that one or a few sites aren't performing well, then you can "blacklist" that site from your campaign to focus on more profitable exposure.
As suggested earlier, Perfect Audience focuses on keeping it as simple as possible. They even have a 5-minute quick start guide with instructions for setting up and starting to use their platform in a matter of minutes.
If you are sending emails or newsletters to a list of subscribers, you can retarget recipients who've opened the email. All you will need to do is place an image pixel on your HTML email template. Then anyone who opens your email in HTML format will be cookied and on your remarketing list. Of course, this opens a plethora of marketing opportunities. If you are a little creative, I'm sure you can think of a few fun ways to use this feature. The great part is its simple to build out your list. Take a quick look at this shot of me creating a remarketing list of past buyers of an e-commerce business:
With Perfect Audience you can target people who have open your emails.
Perfect Audience also has a huge knowledgebase with short to-the-point manuals, quality guidelines, video tutorials, and dynamic ads.
Perfect Audience points to take home: Perfect Audience is a great option for small businesses that are keen to learn a bit more about online advertising without spending massive amounts. The range of options is great for e-commerce stores using third party platforms like WordPress, Shopify, Magento, or 3dcart.
Triggit
Triggit has many different advertising options for their clients, but, like Perfect Audience, they seem to be focusing more on Facebook ads. That's mainly because they strongly believe in the power of social media when it comes to converting a visitor into a prospective buyer. So, you will find many tools and features made specifically around the Facebook Exchange.
You can set your own budget, frequency caps (so that people don't get annoyed by your ads), maximum bid, and a lot more while retargeting your visitors on Facebook and around the web.
While their reach doesn't quite hit the highs of AdRoll or Perfect Audience, Triggit more than makes up for it by offering more advanced targeting features like frequency caps, bidding rules, and campaign goals
The Dynamic Creatives feature allows you to use custom heading, custom dates, and custom images in your Facebook ads to improve click through rates (CTR.) Not only can you retarget with products that the visitor has recently browsed on your website, you can integrate your product feeds and the software will dynamically create multiple ads for the same purpose.
In addition to the basics, there also are some advance retargeting options available, like targeting the people in your remarketing list according to their location (i.e., FBX Geo-Targeting [advertising to Facebook users according to their location]), one-off product marketing, custom reporting, customer segmentation, and creating unique strategies for different segments.
A Geo-Targeting Campaign in Triggit
Triggit claims having access to more than 10 billion impressions a day, from millions of websites around the Internet.
Triggit is one of the oldest DSPs in the market, so they have plenty of experience when it comes to the art of retargeting.
Triggit points to take home: Triggit specializes in retargeting via Facebook Exchange, and that is where their strength lies.
ReTargeter
ReTargeter is comparatively new, but it already has shown itself to be a strong contender when it comes to remarketing platforms. Retargeter offers a wide range of marketing and remarketing solutions, including site retargeting, Facebook Exchange, CRM Retargeting, email retargeting, search retargeting, and short tag (you can use a custom link shortener and when you post that link on social media, anyone who clicks on it will see your full ad popup AND be cookied for later.), to name a few.
The service is aimed at sites with over 30,000 unique visitors per month.
You can create target ads according to the demographic, geographic, income, or intent of your customers.
Since they are not focusing more on a certain type of retargeting, you can choose from a variety of options; for example, retargeting visitors who have browsed your website, subscribers who have opened your newsletter, or people who've engaged with you on social media.
ReTargeter does not restrict their inventory based on spending level, so you will get full network access.
You can use frequency capping; for example, showing users 15-20 advertisements per month, so that they don't start getting annoyed by your ads appearing left, right, and center.
Their services start at $1500 per month (and you will get up to 175,000 impressions for that price), and all the campaigns are managed by a dedicated account manager.
ReTargeter points to take home: A great solution for larger volume sites. ReTargeter has some unique advertising solutions which will put you ahead of the pack.
Google
Since we're talking about retargeting, we'd better take a quick look at what the big "G" offers. With a massive display network encompassing more than a million websites, videos, and apps, there are plenty of opportunities to retarget successfully with Google.
The service can be set up easily from inside your Google AdWords account. All you need to do is add the remarketing tag to your website, build your ads, set up your campaign, and off you go.
In your AdWords account, head to the shared library (from campaigns tab) to create a list of people visiting a certain section or page of your website. Check out this image below to see exactly where to go:
Once in the shared library, click on "view" under Audiences as per below:
Google offers super simple targeting options. You can target people depending on their actions, time of visit, and the specific pages they landed on. Take a look below to see a real life example of this:
Google has recently introduced remarketing lists for search ads (RLSA) with the aim of allowing advertisers to craft campaigns aimed at people who have searched for a particular keyword, regardless of whether they have visited your site or not.
Google remarketing takes place on the Google Display Network. This means you can reach close to 10% of the internet through their platform.
Google points to take home: A simple solution for users who are comfortable with the AdWords platform. It is limited to the Google Display Network and doesn't offer any Facebook retargeting options. This service is great for people looking for an easy, quick solution without any headaches.
Conclusion
As you can see, whatever your niche and size of site, there will be a remarketing platform that will work for you. There is an amazing number of remarketing options available, and, depending on your specific needs, one of the above-mentioned platforms should do the trick. So, set up a campaign, start building your list, but, most of all, GOOD LUCK and happy remarketing!